Sunday 7th November. Ride to Sutton
We met at Chichester Cross at 9.30 for today's ride. The weather was dry but cold at about 10C with a NE wind.
Gill was our leader and she was joined by myself, Colin and Avryl.
This was a good autumn leaves ride with all the trees showing a good display of colours.
We headed east on lanes via Westhampnett and then up the quiet climb to Pillygreen.
Then it was a fast descent to East Dean and along the lane at the base of the Downs to Upwaltham and along the main road to descend Duncton Hill. A sharp right at the bottom of the hill took us on more lanes via Barlavington.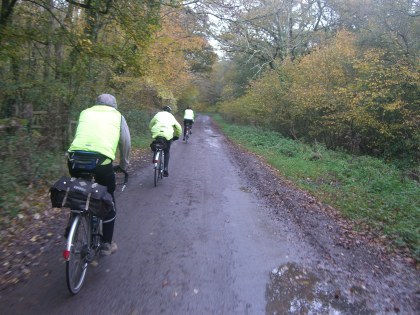 Then it was on to Tiffins at Petworth for elevenses. Here we met the Arun Adur group, Brian and Sue Howe, Graham and Tony. Brian was motorised but very cheerful after getting the all clear to ride his Bike.
Arun Adur were heading directly home so Gill led us to lunch via Byworth to The White Horse at Sutton where we met John Maxim.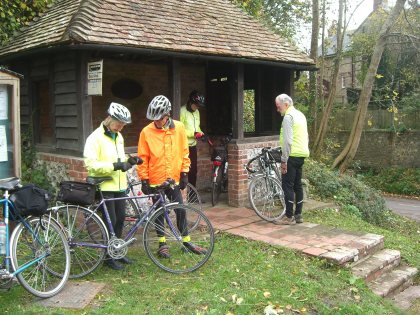 After lunch John headed back home via Arundel while the rest of us took the lane to the base of Duncton Hill.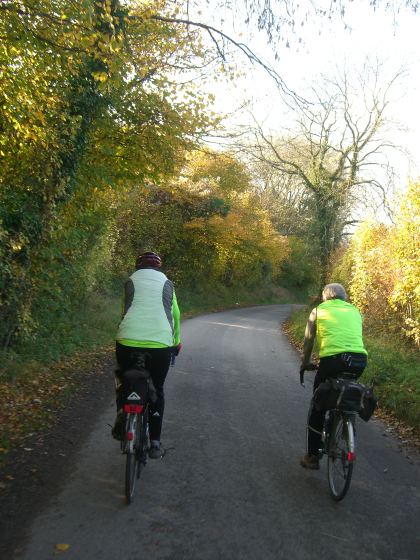 After the stiff climb we headed south. Colin left us at Upwaltham and the Gill, Avryl and I took the lane via East Dean and Singleton to stop for tea at West Dean Gardens.
Mileage from and back to Chichester was 40. My mileage for the day was 51.
Edwin
Posted by RideLeader at 20:11 GMT