Saturday 26 August Ride to Beach Cafe Pagham
14 Riders met up for an easy paced ride at Bognor library on a warm afternoon perfect for cycling. There were leaders Carol & Steve Woods Colin, Bev, Chris, Mike, David&Lucy, Edwin, Julian, Sam, Harvey, Rosie, and David.
Steve led the ride out over Highfield Road bridge under the under pass A29 past Tescos onto Rowan Way and along the cyclepath.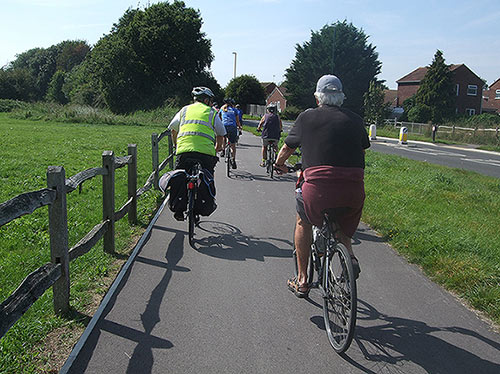 Then left into North Bersted St into Chalcroft Lane into Hewarts Lane Then Rose Green Rd where Steve gave a demo of his walkie talkie contact with back marker Carol after changing channels because a yachtsman was butting on asking where we were going.
Then left into Hook Lane for a picture stop.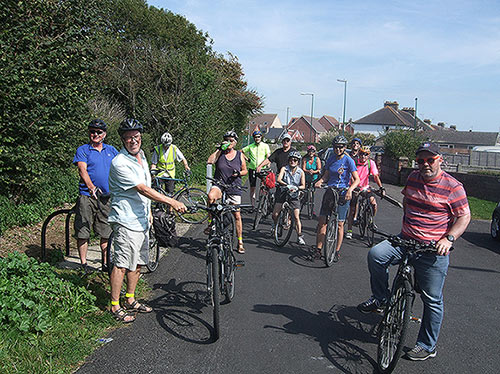 Then left into Pagham Rd left into Sea Lane where we reached our destination, we were met at beach cafe by George & Michelle Sinclair which made 16 for return journey after tea, cakes, Cheesy Chips and on Sam's insistence large ice creams with flakes which was served to us by the very friendly staff at Beach Cafe.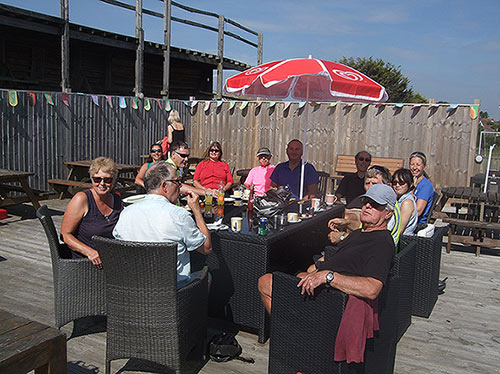 We were led back on Carols Mystery Tour back via Nytimber Lane, Fish Lane, Marine drive and along the very busy prom to Butlins with riders leaving us on the way, the ride finished at Hotham Park. Total mileage 16 miles
Thank you to all the lovely people who joined the ride today.
Steve and Carol
Posted by RideLeader at 21:25 BST