Saturday Ride 19.8.17 to Arundel
There's always a good turnout for this ride and despite the unpromising dark clouds, today was no exception, with 16 setting out from Bognor library.
We welcomed more than a few newcomers...Carol, Jeanette, Carol, Mark, Frances, Mike, and Adam and Rebecca on a tandem. Plus Dave and Lucy, Clair, Chris, Alan, Maureen and Julian.
Some unforecast rain had fallen in the morning but the sun was out by the time of the ride. However as we were about to set off dark clouds rolled in and rain threatened. I took the route via Felpham cricket pitch and the recently re opened route to Flansham via the golf club, and by the time we got there the sun was back out and it remained sunny with no rain for the rest of the afternoon. From Flansham we took the Barnham cycletrack and stopped near Barnham church for those with wet weather gear to dress down.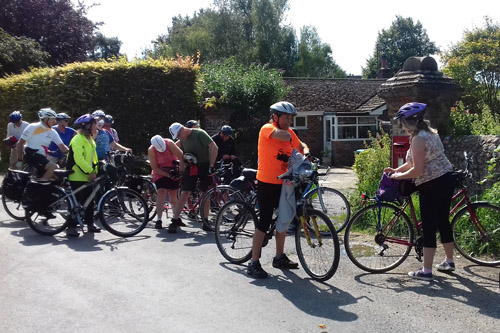 Then it was to Walberton on the new cycletrack, then Binsted and our route through the woods and the spooky Maddonna pond to arrive at Arundel the back way. The rough tracks new to many on the ride but we all got through without difficulty, including the tandem. The only casualty was me whilst changing too quickly through the gears - my chain dropped off the front derailleur.
Arundel was busy with the Festival in full swing but our destination was the Putting Green Cafe which was much quieter.
The return route via Ford, Yapton and Bilsham was quicker and flatter but busier.
This was one of our longer Saturday rides at 23.0 miles round trip which i hope wont discourage our enthusiastic newcomers, who we hope to see out again.
Graham
Posted by RideLeader at 00:01 BST
Updated: Monday, 21 August 2017 11:06 BST