Sunday 23 July. Ride to Blossoms Cafe, Stansted
After failing to check the Rides List and arriving at Chichester Cross at 9.00 instead of the official 08.30, oops I was joined by Keith Dodman who only arrived because he was checking out if there was a short ride on. We decided on a half day ride to a first visit to Blossoms Cafe, Stansted. This is in the Garden Centre Shop area next to the usual Stansted Cafe. This destination proved just as well as from the weather radar anywhere over the Downs and especially to the NW received areas of rain from mid morning which did not reach the coast until mid afternoon. A lady sitting at the Cross offered to take our picture.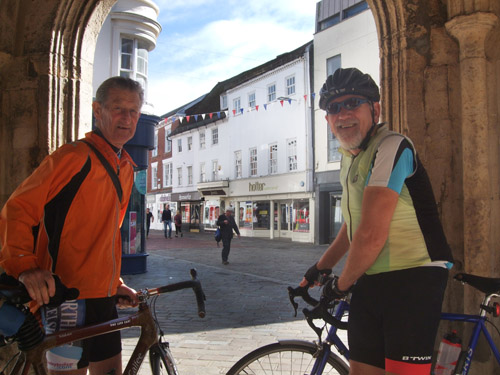 We headed out via the somewhat overgrown Centurion Way and then on lanes via West Stoke and on via the usual Lane, Downs Road where we navigated a long area of road flooded from yesterdays downpours. Then on via Funtington and Racton and on to Stansted. Blossoms Cafe is reached by walking through the Garden Centre. There is a very large area inside with no queue and also a fair sized outside seating area. Very quiet and with prices cheaper than the main cafe. Worth a try perhaps for a Saturday Ride.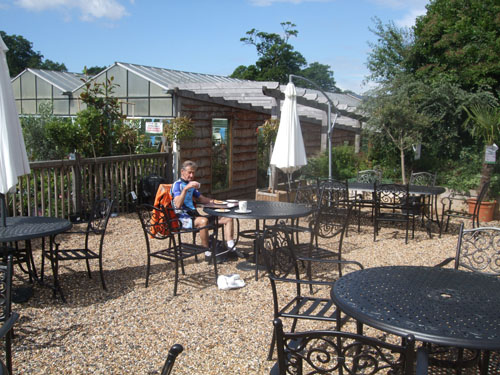 We switched briefly to the usual (Pavilion Cafe) to chat to the group from Bognor CC but took a different route back. We headed back via Westbourne and Woodmancote and the usual South Coast Cycle Route lanes back to Chichester. Mileage from and back to Chichester was about 24. My mileage from and back to Pagham was 37.
I have processed more of my pictures taken at the Tour de France. The first is from a corner on a small climb on Stage 6 on the 6th July finishing in Troyes with the Sky Team close to the front in Yellow Helmets.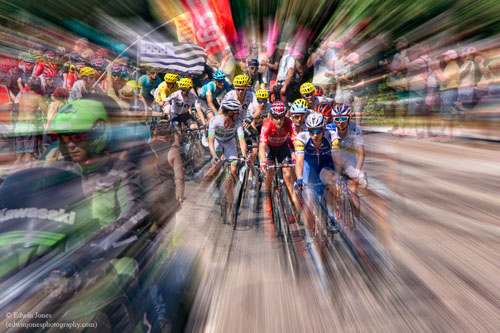 More details and a larger picture at https://www.flickr.com/photos/edwinjones/35937797926/in/photostream/
The second picture was taken the next day at the Start in Troyes with the racing neutralised until a few miles after the start and Chris Froome in the lead.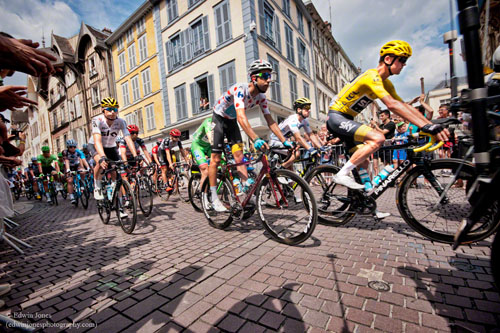 More details and a larger picture at

https://www.flickr.com/photos/edwinjones/35905335231/in/photostream/
Edwin
Posted by RideLeader at 16:04 BST
Updated: Sunday, 23 July 2017 18:25 BST