Sunday 4 June Arthurs Easy 100 Mile Ride
The weather for the ride today was pleasant being dry with a lot of sun and temperatures up to 17C though with a strong SW wind.
The start was 7.00 am from Chichester Cross. Arthur was the leader and he was joined by Lynn, David Sinclair, Russell, Richard, Bob and Gill Marshall, Bob Birtwell, Jan Bambridge, Ann Walford, Martin Guarnaccio and Graham Annaly. I joined the ride at lunch so 13 riders out during the day
This was Arthur's flat 100 mile ride so the route was carefully devised to keep to the coastal plain avoiding all hills, while taking in a lot of quite lanes. Breakfast would normally on this ride be at the Boaters Bar, Prinsted but as that burned down a few months ago the destination was changed to McDonalds, Havant which has the advantages of opening early and giving fast service.
The route to lunch included some of the Salterns Way cyclepath. Having ridden a hundred miles many times before and still getting fitness back after an accident in April I decided to join the group for lunch and ride part of the afternoon section. I went to East Wittering via South Mundham and Fisher. At East Wittering lunch was taken at the Boulevard Café which gave prompt service of the usual large portions. We then gathered outside for departure.
Then it was lanes up via Earnley and Almondington.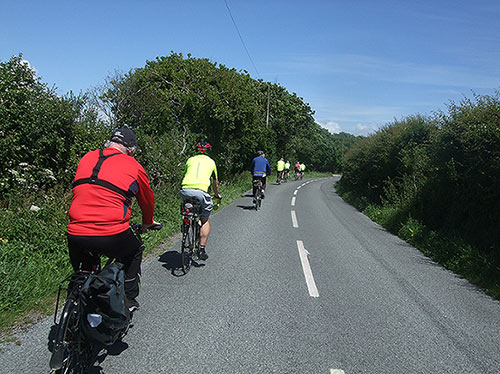 Then on via Sidlesham and Hunston and after a loop down to South Mundham it was back via Merston and on via the cyclepath alongside the A259 towards Bognor before turning onto the Colworth lane and on to Westergate to turn off on the lane towards Walderton and a rest while Arthur and Martin fixed Lynn's puncture. The select few did the mending.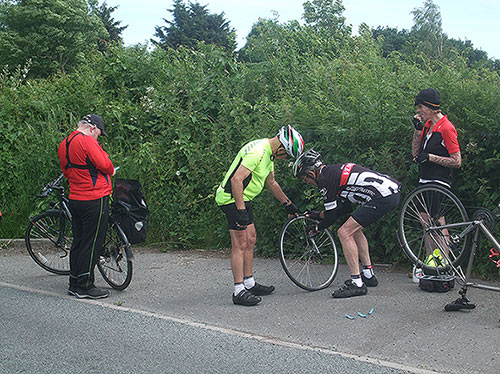 While the rest waited and chatted and watched.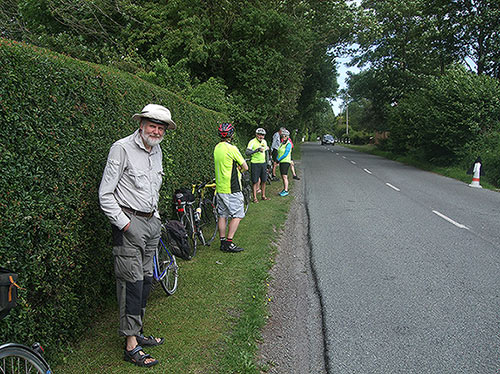 We turned off just before Walberton to join the cyclepath to Barnham. I left the group at Barnham to take the Barnham path home to the coast. The rest continued aiming for tea at the Look and Sea Littlehampton before returning to Chichester to complete the 100 miles. My mileage in all for the day was 41.
My latest picture was taken in London on Friday at the Victoria and Albert Museum. It shows the roof of one of the Galleries taken from a walkway above it with the roof reflected in the glass of the top of a display case.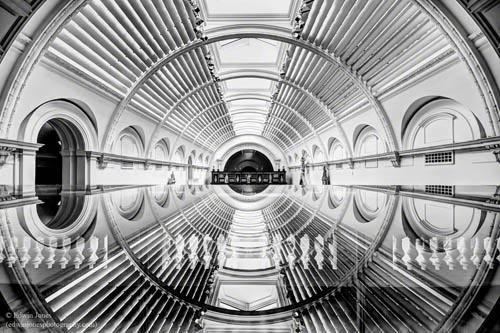 Edwin
Posted by RideLeader at 21:01 BST