Sunday 22 May. Ride to West Meon
Yesterday it was particularly good weather, sunny and warm. In the afternoon I went to Pagham Harbour and took pictures with my SLR including the one below, an HDR combination of 3 pictures.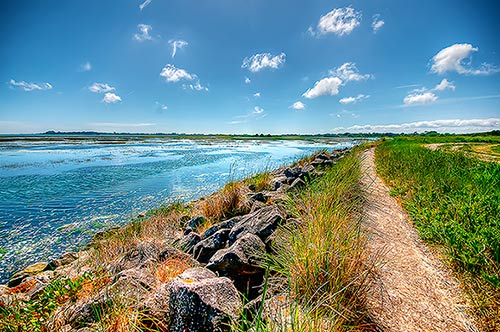 The weather today was not as good with a chilly and strong SW wind and some showers around. We dodged most of them though, only encountering 2 which lasted only a few minutes.
I was the leader and I was joined at Chichester Cross by Colin and Mandy.
We took a route out via Clay Lane, West Ashling and Funtington. Then it was up the valley road via West Marden to stop for an early elevenses at Compton Shop Tea Rooms. Mandy had to get back early so she turned round from Compton.
Colin and I continued across to Idsworth and then the steep climb (15% on my bike computer) to Chalton. Then it was over the A3 and up to Butser Hill. After a sharp descent to East Meon we continued on the valley road to West Meon.
We had been due to go to the cafe at the back of the Village shop. However I had found out from the Internet that this was now closed on Sundays. Instead we went to the Church and found a good seat in the Church grounds for sandwiches. Then it was on north to West Meon Hut to stop at Loomies Cafe for a drink. This was inundated with Motorbikes, the Whiteways of the West. The picture below is one taken by Colin of one of the interior displays.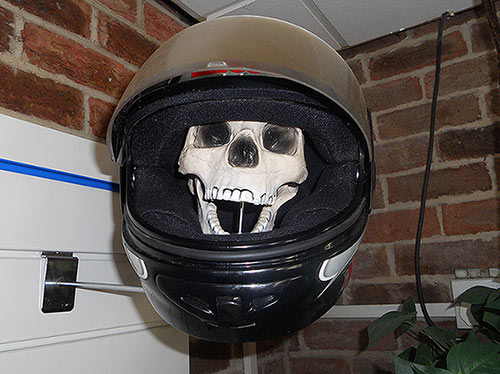 In the afternoon it was a convoluted route on lanes we seldom visit via Privett, Froxfield Green and Langrish. Then onto a more familiar lane to Buriton and a sharp climb up the hill. Thanks to Colin for his picture of me recovering at the top.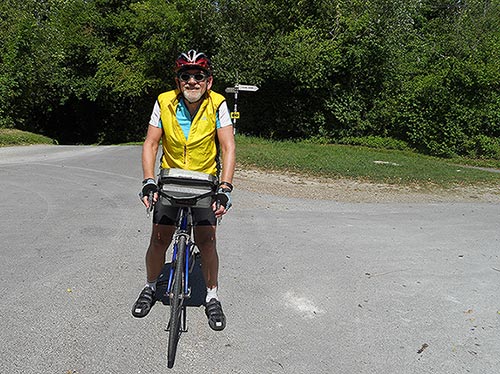 Then it was on via Finchdean to stop for tea at Rowlands Castle. The return to Chichester was on the usual route via Westbourne.
Mileage from and back to Chichester was 55. My mileage was 67.
Edwin
Posted by RideLeader at 19:47 BST