Lanzarote Week to Saturday 8th January
I arrived here on Tuesday with the plane on time and 100 spare seats so I had a row to myself.
You may not want to know this but since I arrived there have been clear blue skies, light winds and temperatures 22 to 24C. Lowest nightime temperature has been 16C.
I started on a bad cold just before New Year so I have taken it easy with cycling, limiting myself to flat rides on the cycle path on the coast to Arrecife which is 18 miles return for the first few days.
I brought with me my Digital SLR Camera and a new 10-20mm wide angle lens to try out. Also last month I discovered HDR Photography and have been trying this out. HDR means high dynamic range and involves taking 3 images at different exposures of the same scene and combining them together in software. This results in a higher range of light in the photograph than is normally possible and produce striking images.
Below is a photo of the sunrise on Puerto del Carmen beach. Not too early a start as sunrise was 07.50.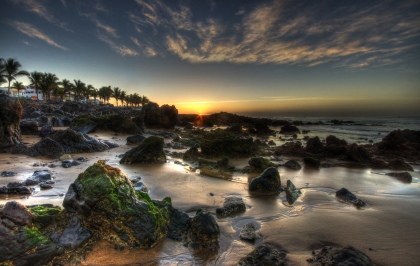 Yesterday I felt well enough for a short ride into the hills. This was up some backroads to 1000ft. I was aiming for some HDR photos of a crater so a tripod was strapped to the carrier. The crater is quite spectacular and I have taken photos from the road before. However there is a footpath which goes round it with an entrance to walk into the crater floor where there is a gap in the rim. I have never done this on Lanzarote before, probably because I don't normally do walking.
Inside the crater rim it was quite spectacular. The photo below of the crater floor was taken after waiting for a coach load of German Tourists to do a brief visit.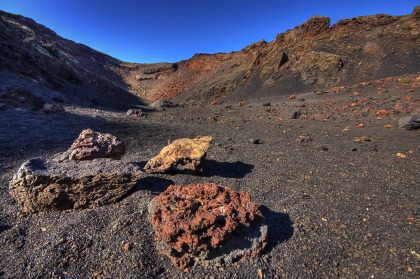 Edwin
Posted by RideLeader at 19:31 GMT