Bognor Regis Library to Wyevale Garden Centre, Merston
There was a break in the recent bad weather for today's Saturday ride - temperature hovered around 4-5 degrees (about 10 up on recent days) and with no wind to speak of 5 people turned up for a bit of fresh air and excercise. I was joined by Julian, Val, Carol and Steve.
The route took us along Bognor seafront but we hadn't set out for more than 10 minutes before Carol fell victim to a puncture. Fortunately Steve carried a spare tube and we were off again in no time. We went along the prom, then through Aldwick Green and to the Lower Bognor Road, then the tracks across Park Farm to emerge at Lagness. From there it was across Merston Aerodrome, across the busy dual carriageway, and into the Garden Centre.
After coffee and refreshments we found time to go into the main retail area which had been transformed into a winter wonderland, and of course, Father Christmas was in residence. Val insisted on having her picture taken with him.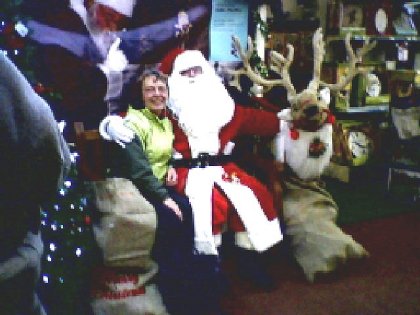 Val tells Santa what she wants for Christmas
After all that excitement it was time to return, which was straight down the Chichester-Bognor Cycletrack to Bersted, then backroads to Highfield Bridge, through the college grounds, and back to the library via Hotham Park, completing a circular trip of 12.8 miles.
Graham
Posted by RideLeader at 23:11 GMT
Updated: Sunday, 19 December 2010 14:40 GMT