Lanzarote. Sunday 7th February. Fermes and El Golfo Ride.
The last week here has seen a good variety of weather. Last Sunday was warm and sunny and I got in a good 55 miles into the northern mountains up to 2000ft and 4000ft of climbing for the day. On the way over there I saw a giant flying saucer settling down onto the mountains!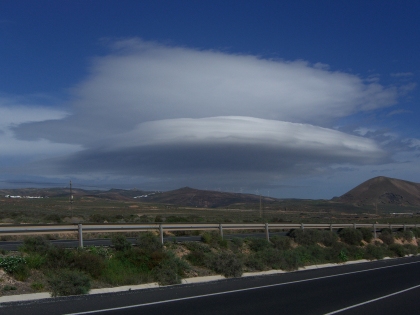 The early part of the week turned a little more unsettled. Monday morning it actually rained for 2 hours (horrors!) Tuesday and Wednesday were dry but fairly cloudy. Then Thursday, Friday and Saturday there were clear blue skies. All week even, on the cloudy days, temperatures were around 22C.
Then today (Sunday) there was a lot of haze especially in the morning and it got seriously hot. Online weather records for the Island showed it got to 27C today and it felt like it.
A few weeks ago I paid a visit to the Cycle Shop in Arrecife and bought a sleeveless cycling top and also a buff to use as a headband or cap to stop sweat dripping in the eyes. Both came in useful today.
I set out early soon after 9.00 and cycled up to the main road and up to a roundabout near Uga. Then it was left up a very steep climb on the road to Fermes which is a village in the mountains south of Puerto del Carmen en route to Playa Blanca. The climb later levelled out and continued more steadily up a high valley. I was probably climbing twice as fast as the majority of club members would have with some notable exceptions such as Anne. It was put in perspective though when 3 German cyclists flashed past me at about 3 times my speed.
At the top in the village there is a nice café overlooking the precipitous road going down the other side. I stopped there for elevenses, pineapple juice and a donut. Then it was onwards and downwards taking care on the first part of the descent, probably about 25%. I was not going to Playa Blanca today but turned off at a roundabout for a fast descent down the side of the mountain. Then it was under the main road and onto the El Gofo circuit past lava fields. After a bit of a climb I stopped at a viewpoint looking towards the mountains I rode over earlier.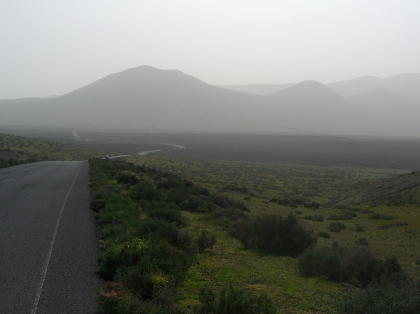 Then it was on to Yaiza and a stop at a square with a seat in some shade to get out of the heat. It was about 12.00 and I stopped here to eat part of my picnic lunch. Then it was back to Uga and another climb up to the plateau and along to San Bartoleme in the centre of the Island. I took a nice fast descent to Playa Honda and the seafront cycle path. I stopped by the Airport for about 2.00 to eat the rest of my picnic lunch, sunbathe and watch the planes coming in to land low over the cycle path.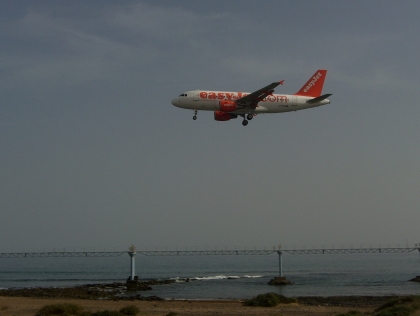 I continued back to Puerto del Carmen for an Italian Ice Cream. The sea was calm as a mill pond and reminded me of a rare hot summer's day in the UK.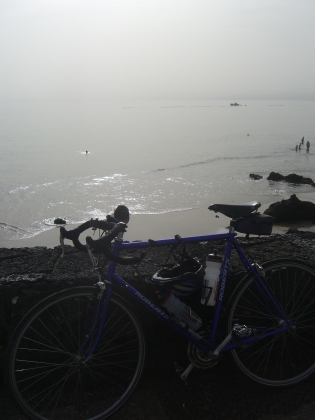 47 miles for the day.
Scroll down for local Club rides.
Edwin
Posted by RideLeader at 18:37 GMT
Updated: Monday, 8 February 2010 08:45 GMT